Please take the time to read this and the information provided below, we appreciate you taking the time to do so as there is some very important information for you.
For the latest information from the Department for Education on opening school on 1st June
(this information added 12th May)
---
This page is to provide you with useful links or information. Please scroll down and have a look.
Also, if you find any useful sites that can be shared here then please can you email details to office.nields@kirkleeseducation.uk so that they can be added to this page.
As we discover more Home Learning websites that you can access they will be added here, please keep checking this page, we are working hard to provide you with as much information and support as we can. Please scroll down to find information and useful links for home learning.
---
---
INFORMATION and LINKS FOR PARENTS/GUARDIANS
For the latest information from the Department for Education about opening school on 1st June
---
LOCALA
We would like to remind you that you can text a nurse at Locala thriving Kirklees Health Service for advice during this time, in the Covid 19 pandemic the service runs Monday to Friday 8am until 8pm with qualified nurses and nursery nurses The numbers to text on are Chathealth Text for parents/carers 07520 618867 for young people 07520 618866. They also have the Locala Facebook page which is updated daily.

CORONA VIRUS SCAMS

please click this link to read the West Yorkshire Trading Standards newsletter about COVID-19 related scams.

PDAP

please click the link to see information and telephone number for Pennine Domestic Abuse Partnership who provide specialist high quality support, advice and safe accommodation for all victims of domestic abuse aged 16 or above.

WELL-BEAN CAFE

The Well-Bean Café is a safe and confidential 7 day service offering mental health support to anyone in crisis living in Kirklees, currently operating as a phone service only please click on the link for details.
From this point, there is information and links to sites etc that can help with home learning.
PROJECTS LAUNCHED 17TH APRIL 2020
| | |
| --- | --- |
| WORMERIES - See the tab under Home Learning to find out all about it, or click on the worm and it will take you there. | RAPPAMAN - See the tab under Home Learning to find out all about it, or click on Rappaman and he will take you there. |
---
Your child should have brought home information about how to use and log on to the following, click on the links available below. Should you need any help with this then please contact school either by phone or email office.nields@kirkleeseducation.uk
Thank you
Classroom secrets Kids DB Primary Purple Mash twinkl
Use code UKTWINKLHELPS Easter activities now available.
Oak National Academy is a new collection of high-quality lessons and online resources.​
More from TWINKL
Have a look at our Days of the Week Snap Game or organise your child's routine, track their height and get ideas for games download this pack of ideas for organising your Home and family routines click on the links in blue to take you to the sites.
Nosy Crow
FREE to download Coronavirus a book for children, a free information book explaining the coronavirus to children, illustrated by Gruffalo illustrator Axel Scheffler.
---
Anxiety/worries about the Coronavirus? A guide for parents and carers of Primary School Children
Click here to view the information Supporting children and young people around any anxiety/worry about the coronavirus
---
---
There is a book called 'How not to go to school' written by a teacher specially for children, you can download it to read or watch a video on Youtube, search for How not to go to school Parsley Mimblewood Saves the World.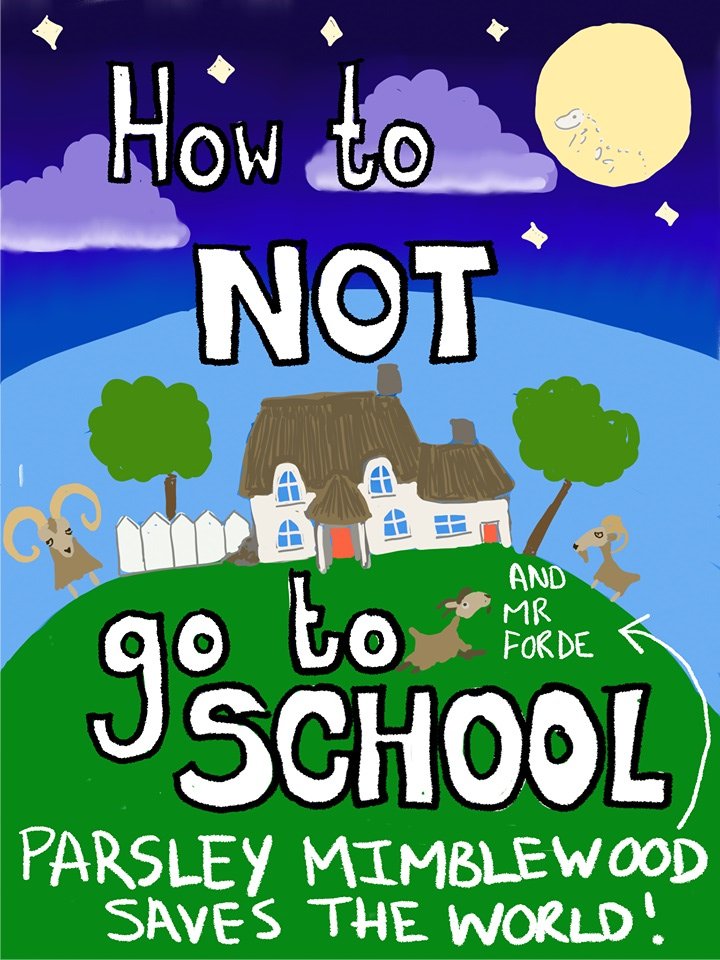 Here are a few links for you, just click on them to view them
GROW YOUR OWN POTATOES We are growing potatoes, some are in school some have been taken home to be looked after. There are resources and activities for you on this link.
FORDINGBRIDGE TRIP TO THE ZOO! FREE resources, Our friends in the zoo community have produced some great resources to keep children engaged and educated during lockdown. Fordingbridge have always taken pride in working closely with educators to create inspiring spaces for learning and play, and now is no different. Also, as Corporate Members of BIAZA (The British and Irish Association of Zoos and Aquariums) we are lucky to have many clever friends caring for many fantastic animals in Zoos and Aquariums across the UK and Ireland.Some of them include activity plans to engage and educate children of all ages and adults too! . Please use the links to benefit from the resources, share them with your friends and co-workers, and remember that when this is over, nothing quite beats a trip to the zoo. Click on Fordingbridge above to visit the site.
---
Numerise is a fantastic resource for Summer prep for Year 6 getting ready for Secondary school. Click on the image to go to the site where you can sign up for FREE as learners and supporting adults.
CORBETT MATHS PRIMARY - for KS2, 5-a-day, videos, worksheets, study cards,quizzes and practice papers.
WHITE ROSE MATHS Always happy to help, the White Rose Maths Team has prepared a series of five maths lessons for each year group from Year 1-8. They will be adding five more each week for the next few weeks. Every lesson comes with a short video showing you clearly and simply how to help your child to complete the activity successfully.
THE MATHS FACTOR - Learn maths at home for free with Carol Vorderman. Suitable for students aged 4-12 years.Matched with the National Curriculum. The Maths Factor makes maths fun and there is something for every child. From daily sessions to games and rewarding targets.
EY IDEAS FOR MATHS some simple yet inspiring ways to introduce kids to maths.
EVERYDAY MATHS fun math activities
MATHSEEDS 30 days free access to a comprehensive online maths programme for kids aged 3⁠–⁠9
NUMBER FUN this is available on Facebook with full and free access for 30 days, or check it out on the internet here https://parent.numberfunportal.com
PARENT NUMBER FUN To support everyone through these difficult times, there is unlimited access to ALL the Portal resources for 30 days – completely free of charge.
BACK TO SCHOOL MATHS IDEAS designed for parents supporting home learning and looking for resources (click on the link below to go directly to resources)
BACK TO SCHOOL MATHS IDEAS maths resources
HAMILTONS are providing free packs for each year group.
White Rose Maths A series of five maths lessons for year groups 1-8 and additional lessons over the next few weeks.
THIRD SPACE MATHS HUB for every year group
CORNERSTONES EDUCATION Reading is one of the most beneficial and enjoyable activities a child can continue to do whilst at home. Here are 45 popular reading guides FREE downloads. For years 3 to 6.
PHONICS BLOOM Play a range of online phonics games, helping teach children the relationship between letters and sounds and develop the skills needed to read and write.
PHONICS PLAY free to use whilst schools closed, lots of resources available.
WRITING IDEAS a fun list of 300 creative kids writing prompts for parents to use.
OXFORD OWL reading books To register for Oxford Owl FREE eBooks click on the owl below.
Help your young child learn to read, and love to read, with our eBook library, containing over 100 FREE eBooks​
OXFORD OWL Oxford Owls learning at home – great ideas for writing too – Check out the Kid's activities section
READING EGGS 30 days free access, online reading programme for 2-13 year olds.
AMAZON AUDIBLE STORIES For as long as schools are closed, you can stream a collection of stories that will help them continue dreaming, learning and just being kids. All stories are free to stream on your desktop, laptop, phone or tablet.
HAMILTONS are providing free packs for each year group..
MUSIC WEBSITES
ACTIVE MUSIC WORKSHOPS for 3-5 year olds are available for you to access on Youtube, type in Stomping in the Woods Video and there you will find some videos, 1: EleMouse, 2: Jump - keep checking for more.
OTHER WEBSITES
CHATTERPACK Virtual tours, and live webcams, including Space and explore the oceans (underwater cameras).
YOUNG PEOPLE'S TRUST The Young People's Trust for the Environment is a charity which aims to encourage young people's understanding of the environment and the need for sustainability. Click on the link
BRITISH RED CROSS Kindness calendars for download and printing off.
YORKSHIRE WATER free Kids Activities, beat boredom and keep your little ones busy with our free activity packs – both fun and educational! Simply download and print at home.
FAIR TRADE Find out about Fair Trade, fantastic web site for children of all ages, lessons, stories, films and more. Well worth a look.
PE with JOE Search for Joe Wicks PE with Joe everyday at 9am on Youtube
RISING STARS It can feel daunting to suddenly and unexpectedly be in charge of home learning, so click on the link for some easy guidelines to follow that may make it easier. Take a look to see if this can help, you will have to subscribe (unsure of cost) to access the resources.
BBC TEACH SCHOOL RADIO Sing along nursery rhymes and more for Nursery and Reception children.
THE GREAT INDOORS/SCOUTS While we normally love the great outdoors, we've pulled together some inspired indoor activity ideas. Keep your kids learning new skills and having fun.
GO NOODLE GoNoodle Kids Dancing is an app designed to get kids moving and to reinforce awareness of the positive effects of exercise. It is rated for users of all ages and is safe for kids.
HOME LEARNING AREA access a free week of learning resources
PRIMARY TEACHING RESOURCES resources for teaching pupils at KS1 (classes 1 and 2) and KS2 (classes 3-6)
ACTIVITY VILLAGE Have thousands of colouring pages, kids crafts, educational resources, puzzles, printables of all sorts, worksheets, sudoku for kids and lots more fun activities for kids!
BBC Teach Live Lessons for Primary Schools
BBC BITESIZE Dance Mat Typing, a fun way to learn touch typing to improve keyboard skills for 7 - 11 yr olds.
OXFORD OWL Free resources/advice and support for parents/educational activities and games/free eBook library for 3 to 11 year olds.
BBC BITESIZE

for KS1 (classes 1 and 2)
THE WORLD of DAVID WALLIAMS If you're looking for some exciting activities to keep boredom at bay, then you've definitely come to the right place! fantastic activities, all inspired by David Walliams' tremendous tales.
Things you can access yourselves:
There are lots of things on Youtube for home learning (we are not providing links for these as we cannot accept responsibility for children accessing Youtube, parental guidance/monitoring of your children using Youtube is strongly advised). Thank you.
The Body Coach - PE Lessons on youtube
Musica Kirklees have put some lessons on youtube.
YOGA and meditation: Katy Szarko would like to offer a live and interactive family class to encourage kids and their parents to get ready for the day, move and introduce meditation as a coping strategy in this stressful time. It will be similar to the Stretch and Strength that Ms Stone has done in school. Only half an hour a couple of mornings a week, if interest is there, she will offer this for free for as long as she can. To receive a link for the online app you will need to send her your email address. If you are interested please message her at katyszarko@hotmail.co.uk or find her on Facebook Katyszarkoyoga. Her son Frankie will be joining in and it will be a great opportunity to connect and have a giggle.
Important notes:
Please take care when accessing Home Learning sites and resources from the Internet, some of them are free trials some are not.
Always read the small print as you might have to subscribe into them and there is a possibility you may be charged after the free trial period has ended.
IMPORTANT MUST READ NOTE:
External links are selected and reviewed when the page is published.
However, Nields J I & N School is not responsible for the content of external websites.
The inclusion of a link to an external website should not be understood to be an endorsement of that website or the site's owners (or their products/services).
---